---
Paleochora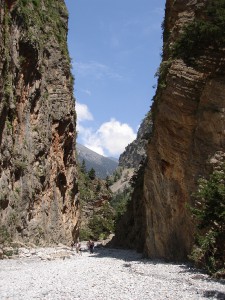 Paleochora je letovisko, které leží na jižním pobřeží západní Kréty. Je to zajímavé město, kde je k vidění spousta starobylých domů, které bývají mnohdy zasazeny do skal. Paleochora je velmi příjemné a klidné letovisko. Do města večer nesmějí auta. Paleochora je jedno z nejkrásnějších míst Kréty. Oblast kolem Paleochory je nejlepší na potápění.
Doprava
Nejlepší cestování je v této oblasti autem. Auto si můžete vypůjčit v některé z půjčoven. Je zde také pravidelná autobusová doprava. Není však tak pohodlná, jako auto. Autobusy jezdí denně do Chanie, takže se z Paleochory dají podnikat i delší výlety. Chania má také svoje letiště. To však není tak velké, jako letiště u Heraklionu.
Zajímavá místa
Elafonisi je fantastická pláž na západním pobřeží Kréty. Pláž je velmi čistá a nezastavěná. Přes tuto pláž se můžete dostat i na nedaleký ostrov Elafonisi. Dalším zajímavým místem je Chania. Je to centrum západní části Kréty. Patří mezi nejkrásnější města ostrova. Až do roku 1972 byla Chania hlavním městem celé Kréty.
| | |
| --- | --- |
| Libyan Princess | **** |
| Hotel Agas | ** |
| On The Rock | ** |
| Aris Hotel | ** |
| Oreia | ** |